............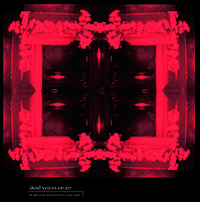 (c) 2009 Brudenia
Dead Voices On Air – The Light Of June Drowned Flowers In Your Mouth

A1 Splet-Envy
A2 It Hurts My Heart To Watch You
A3

To The Earth Of Bones

B1 Tutuguri (Performer [Guest] – David Flick )
B2 You Are Too Young To Fall Asleep

Brudenia – B231
Vinyl, LP, Limited Edition
Released: Nov 2009

Artwork By – Mark Spybey
Design – Mary Cassidy
Mastered By – Steven Seibold
Music By – Mark Spybey

Dedicated to all of the working people of the International Brigades,
who fought so valiantly for the preservation of freedom in the Spanish Civil War,
despite the refusal of their governments to recognize the threat of fascism.
Limited to 350 copies.
......Îfficial Web Site
....